Research 2020 KIA Telluride in Burlington NC
Research 2020 KIA Telluride in Burlington NC
Vehicle Overview
Kia is taking a big leap into the future with its upcoming Telluride crossover SUV. This all-new vehicle is set to launch as a 2020 model. The 2020 Kia Telluride is sporting a modern look, stylish amenities, and plenty of space for the entire family to have fun. While Kia hasn't announced the full specifications of the Telluride, the bits of information the manufacturer has provided is enough to get any driver excited. If you want to learn more about what the new Telluride has to offer, stop by Burlington Kia today. We're proudly serving Burlington Durham Raleigh North Carolina drivers. We'll be happy to give you more details about this futuristic ride. When it is finally released, you can rest assured that we'll have the full lineup ready for you to test drive.
Exterior – 2020 Kia Telluride
The Telluride is going to be Kia's biggest crossover yet. It's a few inches longer and wider than the Sorrento. The exterior design of this new vehicle takes some inspiration from the iconic SUV. However, it takes those design principles a step further. Overall, the Telluride has a boxy and sporty shape. Subtle curves and simple lines are used throughout. On the rear, you'll find an integrated spoiler and a unique taillight system. Thin LED ribbon lights are used to accentuate the lines of the SUV. On the front, you can find Kia's signature tiger-nose grille and recessed quad-LED headlights. The concept model of the Telluride included unique pillarless doors. They open up like french doors to provide open access to the interior. You can stop by our dealership today for more information about the Kia Telluride. We're happy to be serving Burlington Durham Raleigh North Carolina residents.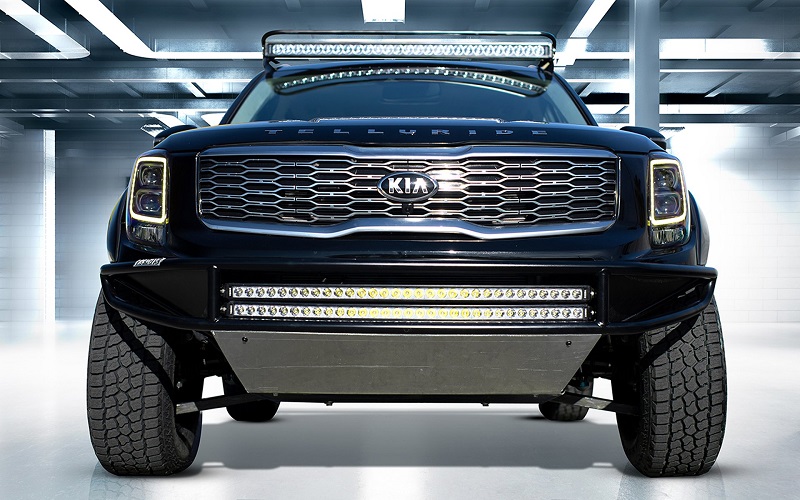 Interior – Kia Telluride in Burlington NC
The cabin of the Kia Telluride is beautifully designed with innovative features throughout. It's a three-row SUV that provides enough room for eight people to sit comfortably. It's speculated that Kia will also offer a seven-passenger version with a roomy second row. The concept build featured four captain-style seats clad in smooth leather. They're fully adjustable. The second-row seats even feature a foldable footrest for ultimate comfort. When it comes to technology, the Telluride will not disappoint. The center dash is equipped with a tablet-style touch screen display. The wide screen provides a clear view of navigational directions and media information. To accompany the infotainment center, a digital instrument cluster is used in the cockpit as well. The concept model showed off an expansive sunroof with a sleek LED light panel. Thinking about getting a 2020 KIA Telluride in Burlington when it comes out? Stop by our dealership for more information about what you can expect.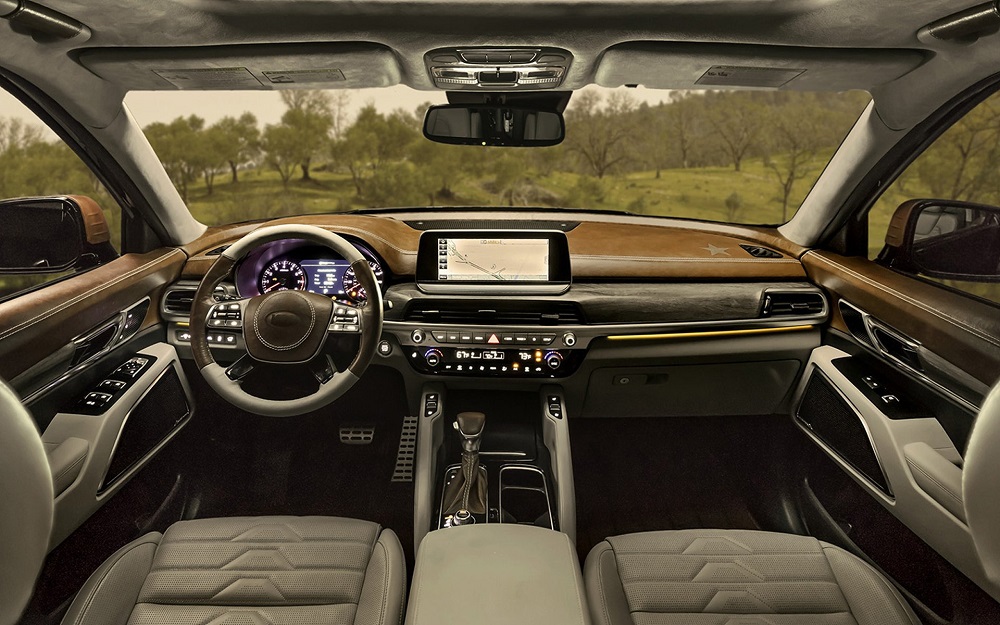 Mechanical – Kia Telluride specs in Burlington
Not much is known about how a 2020 KIA Telluride in Burlington will perform. However, Kia has an excellent reputation for creating capable vehicles that can dominate any path. We do know that the Telluride is built on a modified version of the Sorrento's chassis. It's expected to be available in an all-wheel drivetrain as well as a traditional front-wheel drivetrain. Display models of the Telluride have shown that the vehicle is going to be built with off-roading in mind. These models were equipped with large 20-inch wheels and a collection of optional upgrades. These include skid plates, sidestep sills, recovery hooks, a hidden winch system, and more. Contact us at Burlington Kia for updates about the new Telluride.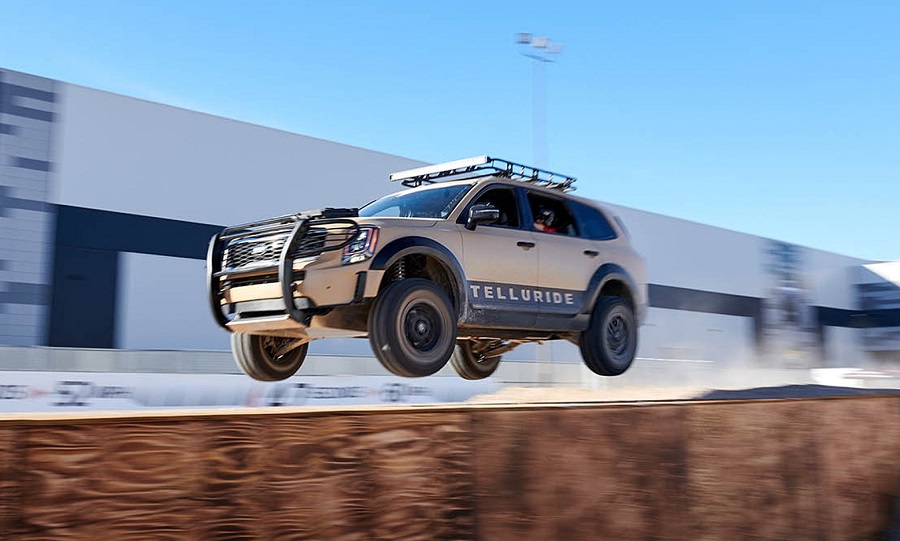 Powertrain – Kia Telluride specs in Burlington NC
The 2020 Kia Telluride is going to be a hybrid SUV. In addition to a traditional engine, it will have an electrical motor to provide drivers with even more power. The Telluride is equipped with a 3.5-liter V6 engine. It is mounted in a traverse position. This engine has direct-injection technology for enhanced performance and better fuel economy. By itself, the gasoline engine produces up to 270 horsepower. The electric motor generates an additional 130 horsepower, bringing the total strength of the Telluride up to 400 horsepower. When the Telluride hits the U.S. market, you can take a look under its hood at our dealership.
Safety – 2020 Kia Telluride dealer
If you decide to get a 2020 Kia Telluride in Burlington, you can rest easy knowing that you're in a vehicle that's built to be safe. While no concrete information is available yet about the exact features that will be included in the Telluride, it's safe to assume that many of Kia's safety equipment will be making its way into this upcoming vehicle. Most vehicles in the manufacturer's lineup are available with high-tech safety features. These include automatic emergency braking, forward collision alerts, blind spot monitoring, an advanced camera system, and much more. Many of Kia's safety systems utilize sensors and cameras built throughout the body of the vehicle. They work in real-time to provide you with alerts and safety information.
We here at Burlington Kia are very excited to get our hands on the brand-new 2020 Kia Telluride. This SUV is set to take the market by storm. With its modern design and impressive features, it's definitely a vehicle to keep your eyes on. If you want to learn more about the Kia Telluride, swing by our dealership today. Our team is proud to be serving Burlington Durham Raleigh North Carolina. We'll be happy to provide you with more details as they come. You can also take a test drive of some of the current Kia models to get a better idea of the value and performance you can expect out of the Telluride.
*Article for general informational purposes, for complete details please contact the dealership.