Raleigh Area – 2020 Kia Telluride
Raleigh Area – 2020 Kia Telluride
View Inventory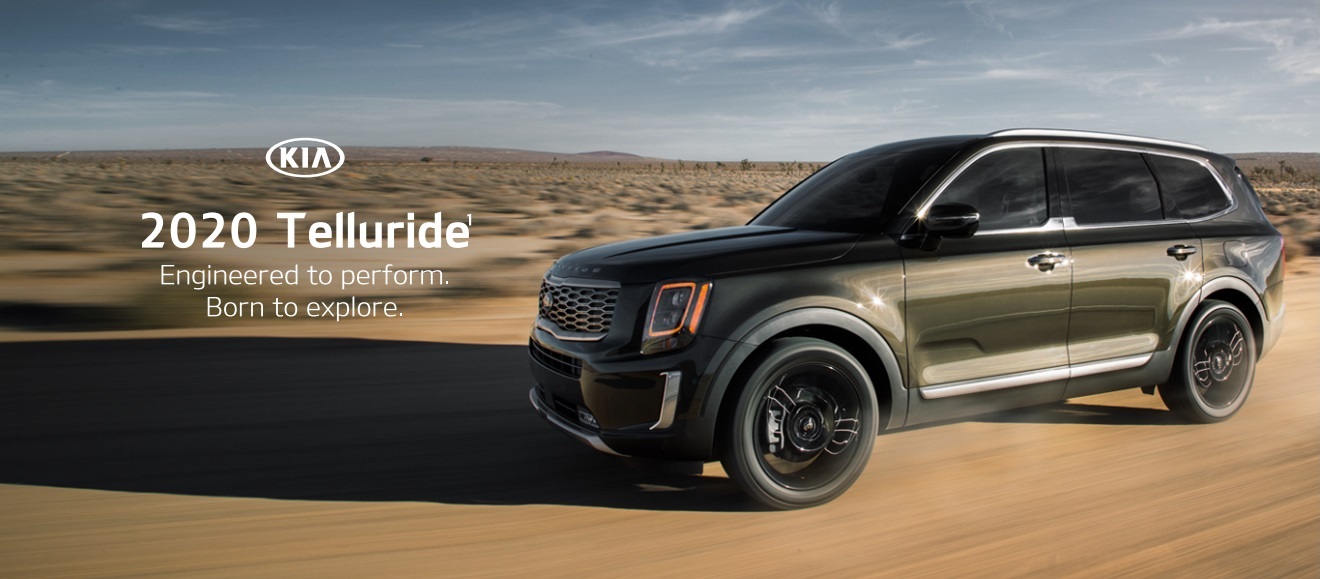 Vehicle Overview
The all-new 2020 Kia Telluride is the latest SUV to join the Kia Family. The Kia Telluride is a large SUV that was created to accommodate eight passengers. The 2020 Kia Telluride has already been recognized for being handsome, tech savvy, and safe. If you are interested in purchasing the 2020 Kia Telluride near Raleigh, then visit Burlington Kia. When you visit our dealership, please inquire about our Burlington Kia specials. Our dealership has been proudly serving Raleigh North Carolina throughout the years. We offer vehicle bargains that you can trust.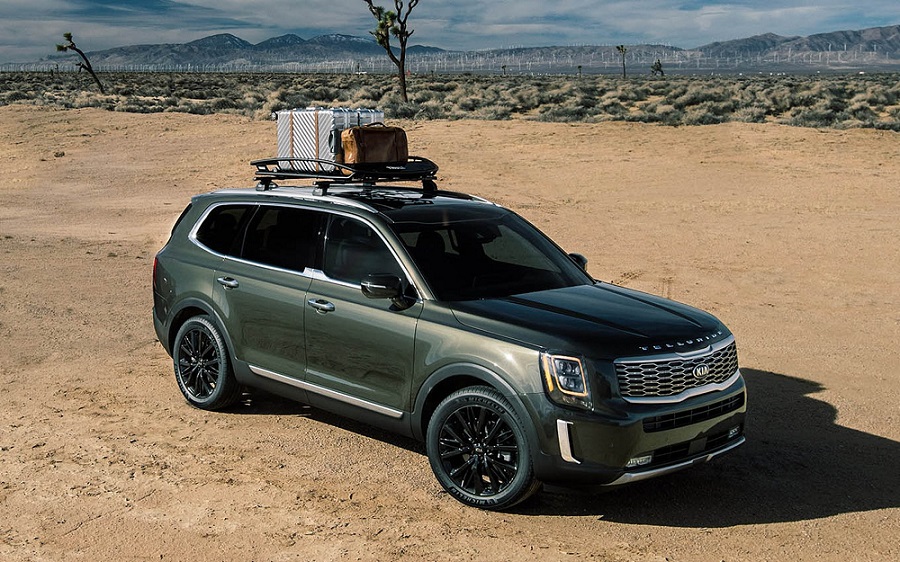 Exterior – 2020 Kia Telluride
The exterior of the Telluride is attractive. So far, the Telluride is available in seven colors: Snow White Pearl, Everlasting Silver, Gravity Grey, Ebony Black, Black Copper, Dark Moss, and Sangria Red. This year's Telluride comes standard with 18-inch rims, chrome finishes, and LED headlights. Higher trim Telluride models offer plush 20-inch rims to its drivers. In addition to the Telluride's handsome exterior appearance, the Telluride is also has an effective towing system. The 2020 Telluride has a towing capacity of 5,000 pounds. The vehicle comes standard with a power liftgate and a smart towing system.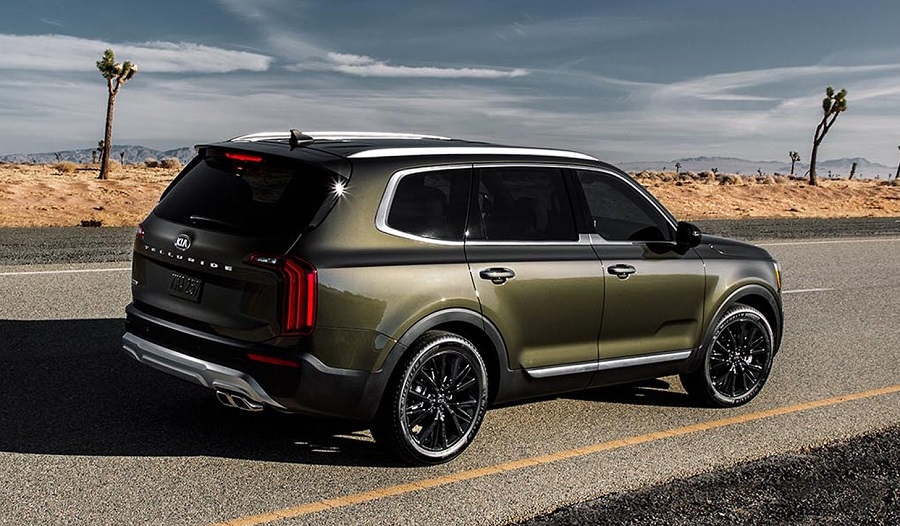 Interior – 2020 Kia Telluride in Raleigh NC
The interior of the Kia Telluride is spacious and sophisticated. The Telluride comes standard with a leatherette interior. However, an authentic leather interior is available with EX and EX trims. This year's Telluride gives drivers the option to easily customize the interior. Drivers of the Telluride will have the option to choose from a black, gray, butterscotch, or expresso brown interior color. The Telluride comes standard with a 10-inch touch-screen infotainment system that is easy to use. This SUV also comes standard with Apple CarPlay, Android Auto, and navigation. In addition, the Telluride is the perfect vehicle for family road trips or when extra space is needed. The Telluride offers 25 cubic feet of cargo space. Moreover, when the second and third row seats are folded, the vehicle offers a total of 95.1 cubic feet of storage.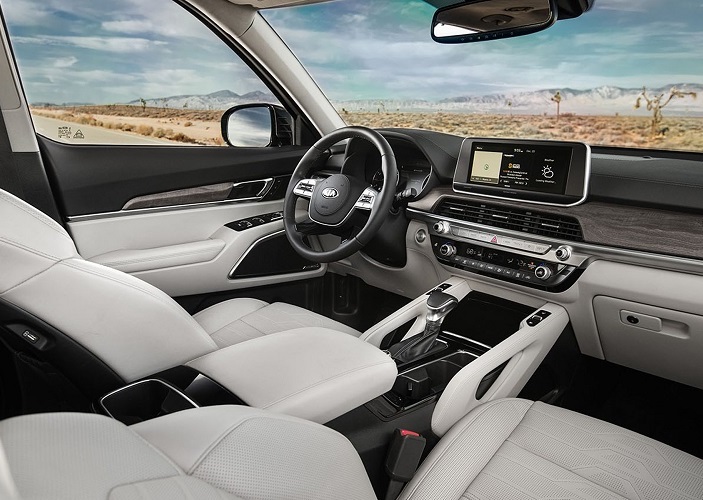 Mechanical – Telluride specs in Raleigh
All Kia vehicles come standard with a 5-year/50,000 mile bumper-to-bumper warranty. If your vehicle expenses any mechanical problems during this time, then all repair expenses will be covered by Kia. After you purchase your 2020 Kia Telluride near Raleigh, please bring it to our dealership for its preventative maintenance services. There are Burlington Kia specials available for mechanical and preventative maintenance services year-round. Burlington Kia offers auto service that you can trust. Our experienced mechanics have been serving Raleigh North Carolina for years now. We are only one call away!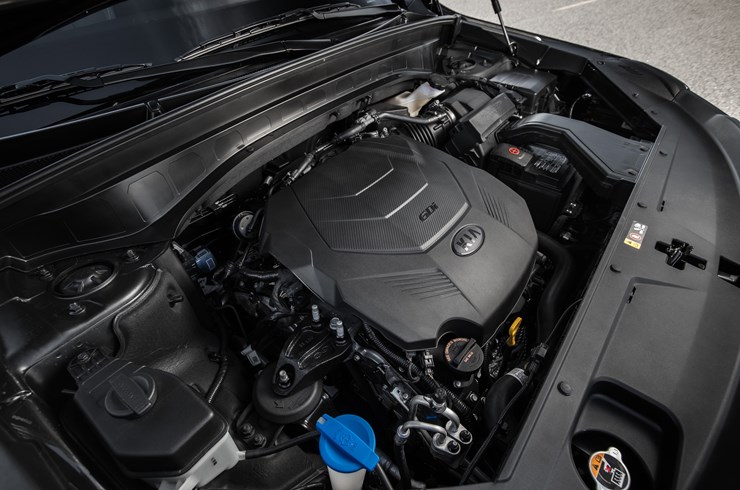 Powertrain – Kia Telluride specs in Raleigh NC
All Kia vehicles come standard with a 10-year/100,000 mile powertrain warranty. If your powertrain fails during this time, then all expenses will be covered by Kia. The 2020 Telluride is offering its drivers a 3.8-liter V6 engine. This engine has a horsepower of 291 at 6,000 rpm. This engine also offers a torque of 262 lb-ft at 5,200 rpm. Furthermore, this engine comes standard with an eight speed automatic transmission and an automatic start/stop system. This year's Telluride is available in all-wheel and front-wheel drive.
Safety – 2020 Kia Telluride dealer
Safety is important to us at Kia. Our company works hard to ensure that we are producing safe vehicles. in order to increase the safety of Telluride drivers, this year's Telluride comes standard with an array of safety features. All 2020 Telluride models come standard with blind-spot collision avoidance, rear cross traffic collision avoidance, adaptive cruise control, lane-keeping assist systems, rear occupant alerts, seatbelts, and airbags. The rear occupant alert system is a feature that is new to Kia. This system delivers alerts to the driver via text message or phone call if a child or pet has been locked in the vehicle. In addition to sending these alerts, the vehicle's light will flash until the child or pet is removed from the car. Safe exit assistance is another feature that is new to Kia. This feature is available with higher trims. The safe exit assistance feature prevents passengers from opening the rear doors when the vehicle is moving or when traffic is approaching the vehicle. Another new feature to Kia is the UVO Link Care. This feature can be added to all Telluride vehicles. This feature allows drivers to call quickly contact emergency services, roadside assistance, and it offers teen-driver functions. The first year of UVO Link Care is free to all Telluride drivers. After the first year, it costs $9.99 per month or $99 annually.