2019 Kia Soul Lease and Specials in Burlington near Durham North Carolina
KIA Soul Lease Specials and Finance Offers in Burlington North Carolina – near Durham
Why Buy or Lease 2019 KIA Soul in Burlington NC
Kia expects to sell a considerable number of these Kia Souls for 2019. This manufacturer also plans to build a large number of these automobiles with regards to their overall worldwide production level for these advanced vehicles. We have seen this new Soul perform much better in the field than its rivals, thanks to some new upgrades that boost the level of quality offered by the Kia Soul for 2019. For the moment, this Korean manufacturer has also successfully provided motorists an original and a restyled version of their phenomenally advanced Kia Soul automobile. The power supplied by the Kia Soul for 2019 remains fabulous, but its new and terrific motor also increases the overall level of potency that is presently offered by this top-of-the-line automobile.
The Kia group has made an enormous amount of overall progress with this vehicle, and this fact is also highlighted by the Kia Soul's incredible technical features. Taking advantage of a high-capacity new motor and the sophisticated interior layout, the new Soul can provide drivers with a top-notch automobile that motorists will indubitably fall in love with.
*Not actual vehicle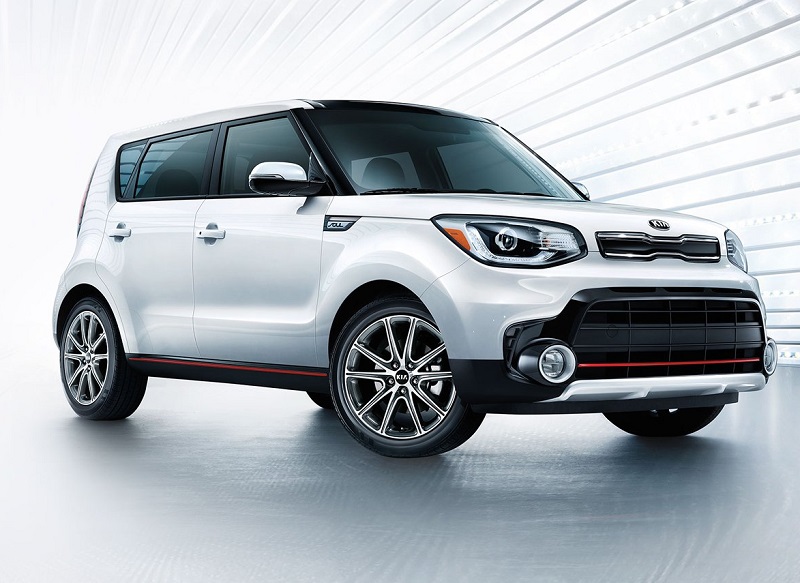 Exterior – KIA Soul
The Kia Soul for 2019 has a shape that is quite similar to the earlier version of this incredible automobile, and it shares an overall layout that is also very impressive. The Soul is an automobile that will nevertheless also be able to impress many motorists with its one-of-a-kind visual style. You need to realize that if you presently aspire to get hold of some various other details that describe the 2019 Kia Soul and our Kia lease specials, then you absolutely should make contact with our automotive dealership in Burlington North Carolina, serving Durham, Raleigh, Chapel Hill. Our reliable employees will be happy to make it possible for you to review this 2019 Kia Soul in Burlington.
*Not actual vehicle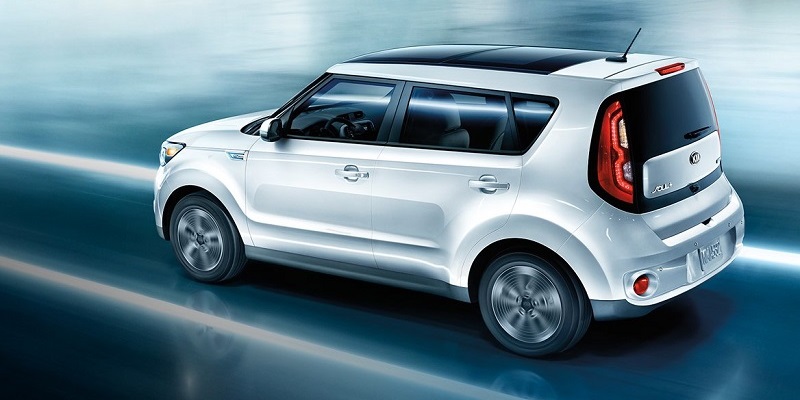 Interior – 2019 KIA Soul
If you get inside this vehicle, then you'll see that the fabulous style of the Kia Soul for 2019 is underlined by its hugely successful layout that incorporates a wide variety of impressively new and beautiful features. The trunk volume, the weak point of the previous version of the Soul, has also increased. The asymmetrically foldable 60/40 rear bench seat provides a high level of overall volume, and its strictly flat floor characterizes this Kia Soul for 2019. In the doors, the large speakers of the extraordinary hi-fi system are surrounded by some useful lighting in several configurations that provide the most beautiful effect possible for the cabin.
However, with the Kia Soul for 2019 the distinctively valuable features such as the beautiful door speakers, the fantastic lighting, and the advanced large multimedia system integrated with the dashboard panel have all been upgraded from the previous version of this vehicle. The top-notch trunk offers plenty of room for all of your cargo, with a well-designed layout, and this successful automobile also provides many other useful storage spaces. On the other hand, the control of wind noise and rolling noise is also excellent.
*Not actual vehicle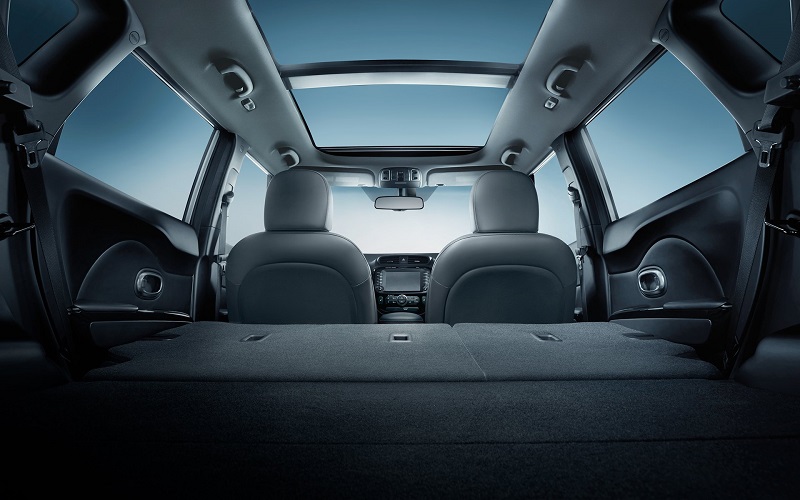 Mechanical – 2019 KIA Soul
Whether a motorist chooses to drive this state of the art automobile in an urban or a rural environment, the impressive level of fuel consumption of the fantastic new Kia Soul for 2019 will never exceed a very reasonable and low amount. With this new Kia Soul, this automotive manufacturer has reached a new and more fantastic level of overall potency. Moreover, this automobile is never limited because it is so powerful that it will never have to slow down because of a technical limitation. The Kia Soul for 2019 can come coupled with a gearbox whose control will give motorists a complete level of overall satisfaction that will likely impress drivers both with its precision and smoothness. Fortunately, both in terms of their fuel consumption and their level of performance, these new engines are as convincing as any motorist might have hoped.
*Not actual vehicle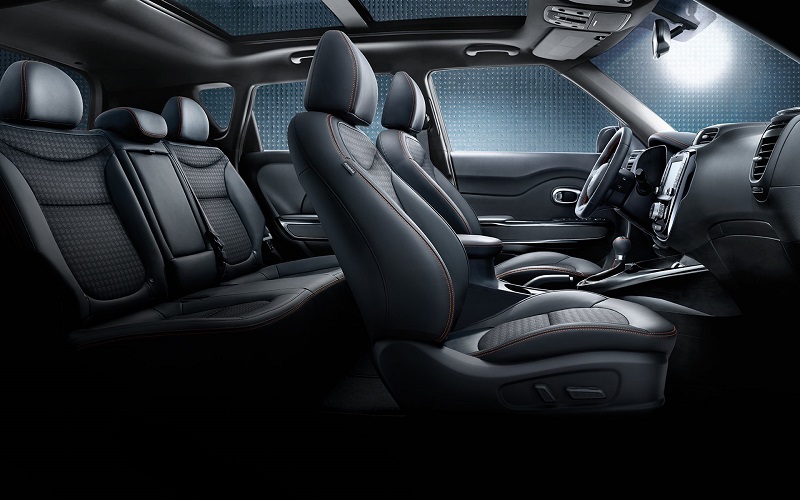 Technology and Safety – KIA Soul
The phenomenal new Soul is equipped with a terrific new motor and a top-notch gearbox with plenty of useful features. The new Kia Soul for 2019 will be able to pass any tests that you put it through. The previous version of this beautiful Soul vehicle had also received a large number of different beneficial reviews from the diverse critics involved in the automotive sector. The Kia Soul is also available with a few fabulous engines that will be able to handle anything that you throw at them. Compared to its predecessor, the new gasoline engine of the Kia Soul for 2019 is less greedy and much quieter. The handling of the Kia Soul for 2019 is focused on safety. The comfort offered on bad roads does not suffer from the use of some large wheels.
Trim Levels
The different trim levels for the Kia Soul for 2019 are all fabulous. As already mentioned, this upgraded new Soul is based on an impressive platform, and the terrific engine has also considerably evolved. On all sorts of different types of terrain, the Kia Soul rarely suffers from any comparisons with its rivals. The new evolution of the Kia Soul for 2019 has also made it possible for Kia to both increase the overall level of torsional rigidity offered by this vehicle and to reduce the height of the center of gravity of the Soul.
Request 2019 KIA Soul Specials in Burlington near Raleigh, Durham, Chapel Hill NC
You need to understand that if you desire to obtain some additional information about the 2019 Kia Soul and our Kia lease specials, then you definitely will want to get in touch with our car dealership in Burlington North Carolina, serving Durham, Raleigh, Chapel Hill. Our qualified workforce will always be glad to enable individuals to check out this 2019 Kia Soul in Burlington.