Burlington NC 2019 Kia Sorento
Burlington NC 2019 Kia Sorento
Vehicle Overview
The 2019 Kia Sorento is an unforgettable midsize SUV. This SUV is the perfect SUV for families of all sizes. The 2019 Kia Sorento's interior provides plenty of space to its riders. It also has several standard useful features. If you are looking for a compact mid-size crossover, you should consider purchasing the Sorento. The price for a Sorento starts at a modest price; however, if you are willing to spend more you will become fascinated with the Sorento's sporty V6 engine, comfort, and impressive premium interior.
Here at Burlington, we are proud to say that we've been serving Durham, Raleigh, Cary, Apex, and Chapel Hill for several years. Our dealership is located in Burlington North Carolina. If you are looking for a Sorento, look no further! Our dealership will help you find the perfect vehicle for you needs! Our sales associates are eager to assist you with your vehicle needs.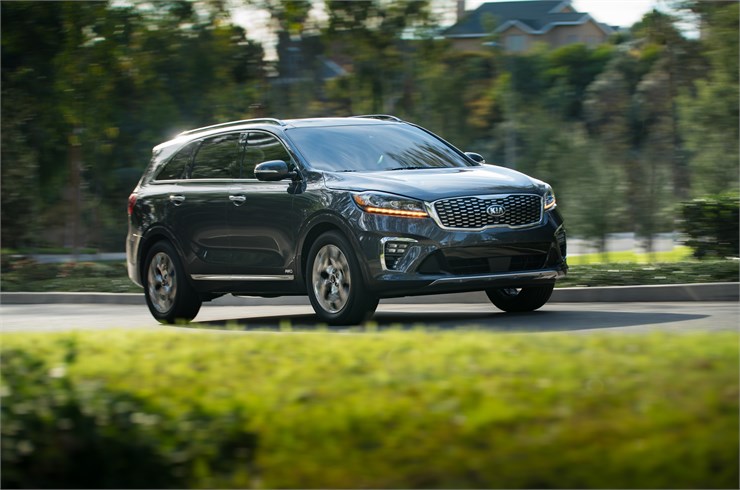 Exterior – 2019 Kia Sorento
Compared to 2017 and 2018 models, the 2019 Kia Sorento has had a mini facelift. The front and rear of the vehicle has been slightly altered. In addition, the vehicle has new vivid head lights on both ends of the vehicle as well. The body of the Sorento looks strong and undefeatable. Depending on which upgrade you choose, you will be able to pick from various upgrades on the exterior of the vehicle. Some of these upgrades can include chrome roof rails, a stainless steel bumper, or even a chrome grille.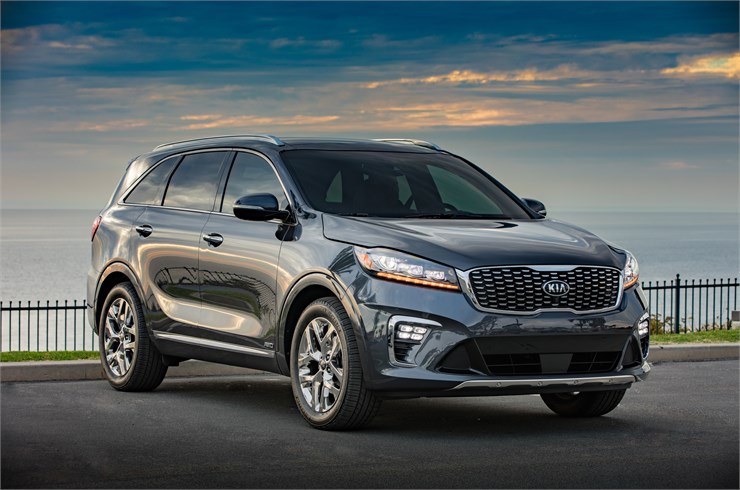 Interior – Kia Sorento in Burlington Area
The interior for the Sorento is new and improved! The 2019 Kia Sorento now comes standard with three rows of seating. This mid-size SUV is now able to seat 7 passengers. In the past, the Sorento came standard with 2 rows of seating; moreover, the vehicle was only able to seat 5 passengers. In addition to the new seating arrangements, the Sorento comes standard with stain resistant cloth. This stain resistant cloth is also able to repel orders. If you are willing to upgrade you vehicle, having a leather interior is also an option. The second and third row of the vehicle is spacious. These two rows can accommodate passengers of any size. When it comes to cargo space, the Sorento has a moderate amount of room to fit luggage. If you are a music lover, then you will love the Sorento. This SUV comes standard with Apple CarPlay and Android Auto. The Sorento makes it easy for music to play from your phone through your car. You will be able to control your choice of music through the seven inch screen that also comes standard with the vehicle.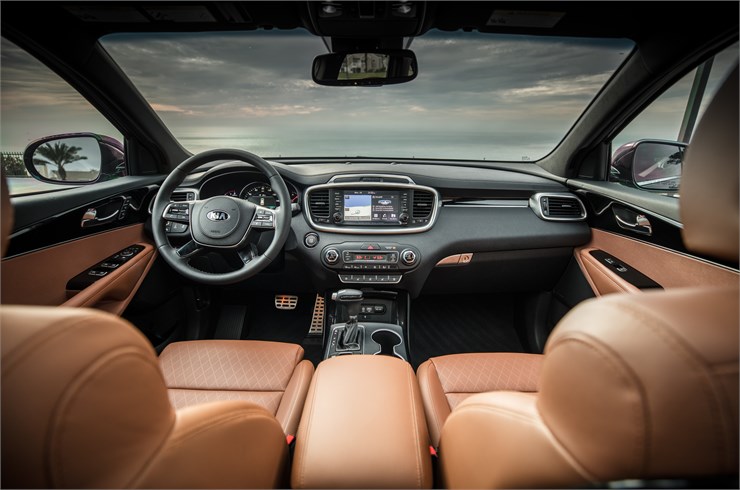 Mechanical – Kia Sorento specs in Burlington
The Sorento's fuel economy is very impressive. This mid-size SUV gets 22 city miles per gallon. When it comes to highway miles, the Sorento gets about 29 miles per gallon. The Sorento comes in two different drive trains. Drivers can choose to pick from having a front wheel or all wheel drive SUV. The Sorento comes standard with front wheel drive on all models. The Sorento is able to tow between 1,000 and 5,000 pounds of equipment.
Powertrain – Kia Sorento specs in Burlington NC
Fortunately, the Sorento has dropped its mid level turbo engine. Kia is now only providing customers with the option to choose from two different powertrains. The Sorento comes standard with their 2.4 liter 4-cylinder engine. This engine comes with a 6-speed automatic transmission. If you're interested in upgrading, you can upgrade to the 3.3 liter V6 engine. This engine comes with an 8-speed automatic transmission.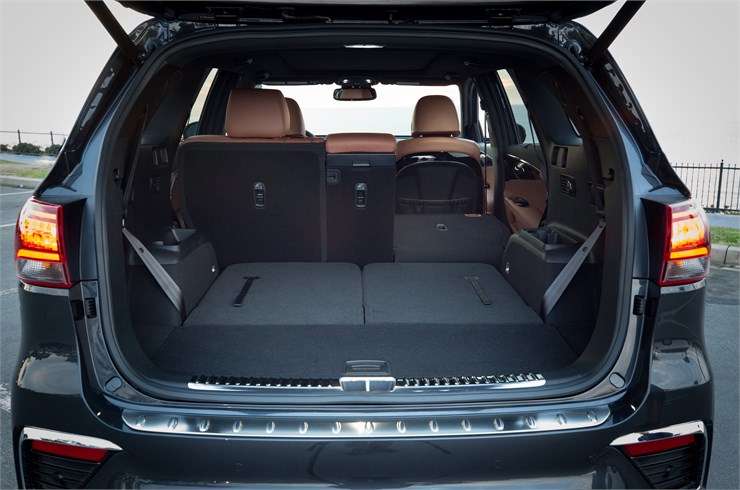 Safety – 2019 Kia Sorento dealer
The Sorento comes standard with automatic emergency braking. Our company is fully aware that new technology can sometimes force driving to become distracting. The automatic emergency braking system helps the vehicle when detect cars and pedestrians are in front of the vehicle. When the system detects these objects, the vehicle will brake on its own. In addition, the Sorento has received a 5/5 crash test rating. This crash test was provided by the National Highway Traffic Safety Administration. Each seat in the vehicle comes standard with working seat belts. In addition, each rider in the vehicle has airbag protection. At Burlington KIA, safety is very important to us. Burlington KIA in Burlington North Carolina is dedicated to providing you and your family with the safest vehicles. We have been serving Durham, Raleigh, Cary, Apex, and Chapel Hill for decades!
As you can see, the all new Sorneto is the perfect SUV, no matter what your needs are. The KIA Sorento is sporty, yet can be used to meet your family's needs. Please don't hesitate, come in to Burlington KIA in Burlington North Carolina to test drive the 2019 Kia Sorento in Burlington NC today! If you have any questions of concerns, please contact the sales department at: (609) 531-0771. Our friendly sales department staff members will answer all questions that you may have promptly and effectively.