2019 Kia Forte near Durham NC
2019 Kia Forte near Durham NC
Vehicle Overview
The KIA Forte is a wonderful compact vehicle with plenty of space for you, your family and all of your cargo. Consumers who purchased the older Forte raved about its massive cargo space and the comfort they felt in the cabin. They also appreciated the quality of the interior build and its materials. It'll please you because it stood at number eight in the top 10 compact cars on US News. Its highest scores were in the safety and interior categories. Furthermore, the vehicle received a four-star reliability score out of five. The dealership serving Burlington Raleigh Durham North Carolina has this car on the lot and is ready to take you on the test-drive of your life. It's only a short drive from Durham, and you will be glad you took the time to go on it.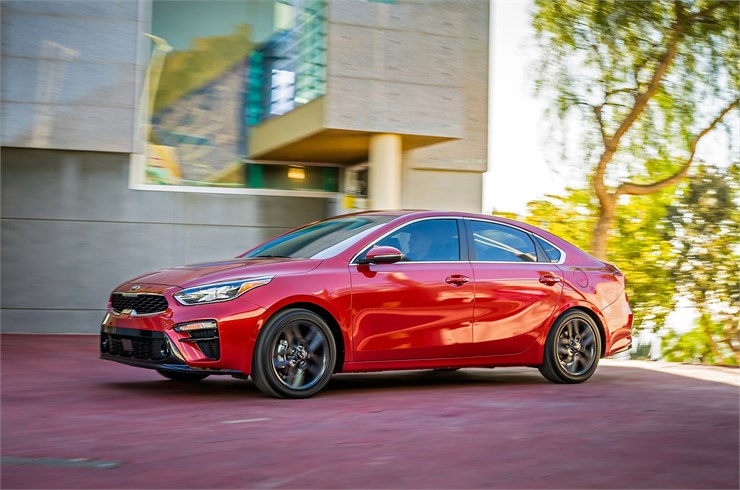 Exterior – 2019 Kia Forte
Now let's talk about the exterior, which will cause the most captivation. The 2019 model has a splendid exterior that will spellbind you and anyone who sees you ride past them. The standard model will have 15-inch wheels, but you can request one that has 16 or 17 inches. You'll also have a black radiator grille, a body-color bumper and more. It seems like the color choices will be the same as they were on the 2018 model, and they were fantastic. You'll still have options like Deep Sea Blue, Snow White Pearl, Clear White and so forth.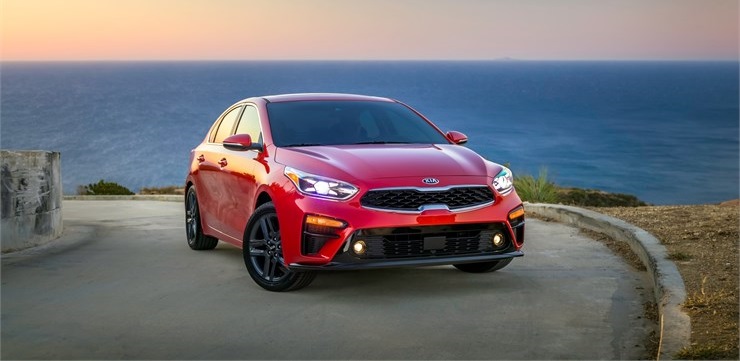 Interior – 2019 Kia Forte near Durham
The first thing we'll look at is the New 2019 Forte interior. It's important because you need to have an established sense of comfort to keep driving the car. As previously mentioned, consumers were quite pleased with its spacious cabin and cargo space. The car easily seats up to five people and offers 15.1 cubic feet of cargo space as compared to the previous model's 14.9 cubic feet. You're getting a little more space than the predecessor had, but people loved the space that was on that one. You'll also have a four-speaker sound system and a steering wheel that has audio controls on it. Your access to the fun will be right in front of you that way. Just ask the salesperson at the dealership to let you explore everything.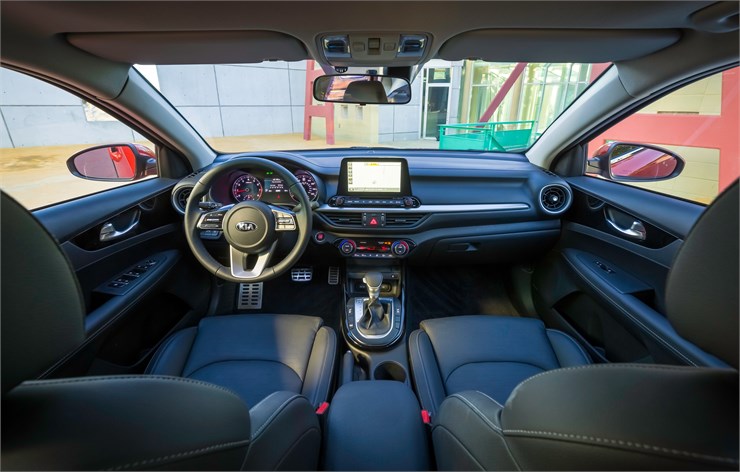 Mechanical – Kia Forte specs near Durham NC
You will want a strong set of mechanical features in your car. The 2019 Forte does provide you with that. First, you will have dual 12V outlets so that you and your passengers can keep your items charged. You'll also have access to an 8-inch touchscreen that connects to your stereo system. The car also offers goodies such as Bluetooth Wireless Technology, Cruise Control and power everything. Cruise Control makes everything easier for everyone. You'll have a blast just letting the car pretty much drive itself while you try to relax. Bluetooth helps keep everything safe by letting you keep your hands on the steering wheel. The car has many more features than that. This list of features is just the beginning. You'll find out much more if you speak to one of the salespeople at the dealership serving Burlington Raleigh Durham North Carolina.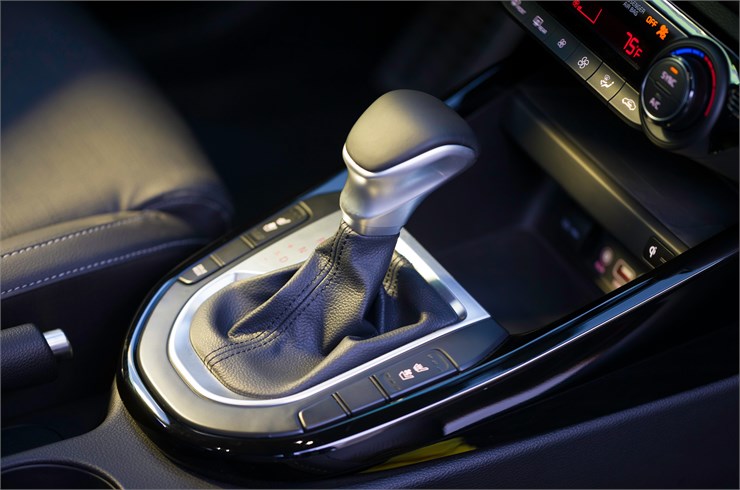 Powertrain – Kia Forte specs near Durham
The manufacturer knew how important it was to consumers to have a powerful engine that could perform well but still have good gas mileage. They achieved that when they created this model. The 2019 version will come with a 2.0-Liter four-cylinder motor that has the multi-port injection system. It will give you a nice bit of pep while you're driving. It isn't a sports car, but it's powerful enough to get you around town. What's important is that it will remain efficient as long as you have it.
Safety – 2019 Kia Forte dealer
The safety features are essential to your overall experience and your confidence. You'll be glad to know that the Forte will come with plenty of safety features for you. Examples of what you should expect are features like the Hill Start Assist, Tire Pressure Monitoring System and Electronic Stability Control. Tire blowouts cause many accidents, and the reason that they continue to get away with it is that vehicle owners don't take a proactive approach to make sure that their vehicles are safe. Fortunately, features like the TPMS can help prevent that by letting drivers know when something just isn't right. The KIA dealer serving Burlington Raleigh Durham North Carolina can tell you more about what the car offers in the safety category. It's only a short drive from Durham to look at the new 2019 Forte.
Schedule Your Driving Adventure
Now is the time for you to get behind the New 2019 Forte wheels and experience how strong of a performer it is. Take a short drive from Durham, and you can do that. You've read the review, but there's nothing is like getting inside the vehicle yourself and getting the first-hand knowledge. Sales associates want to walk you through the ins and outs of the vehicle and then take you on an evaluation journey. Contact the dealership serving Burlington, Raleigh, Durham North Carolina and then just request your personal time with the vehicle. The finance team will be there for you when you're ready to make the 2019 Kia Forte yours.